Our Montclair Office
Montclair Dentist - Montclair Dental Offices
What makes our office rather unique is our comprehensive approach in evaluating and in treatment. A single tooth alone cannot walk through our doors. People do. What may be perceived as a tooth problem may have started as a gum (periodontal) problem, or a bite problem, or a problem from bad habits. We evaluate the entire craniomandibular system: your teeth, gums, bone, ligaments, jaws joints, and musculature. How all of those parts work together bio-mechanically is often left as clues on your teeth and in your gums. It makes a simple treatment plan simpler, and clarifies the more complex treatment plan. All of this is done so we may educate you on your oral health, and offer you options and solutions to fit our care into your lifestyle.
Office hours are by appointment only. Our office is warm, quaint, and friendly. The atmosphere is jovial. We try not to take ourselves too serious. The staff is second to none. They are the most integral part of our practice. Their proficiency and expertise allow the doctors to spend more time with you. Simply put, we are a family. And our family extends and invitation to meet yours!
Upper Montclair Dental Associates
223 Lorraine Avenue
Montclair, NJ 07043-1948
Phone: 973-746-6056
Click here for door to door driving directions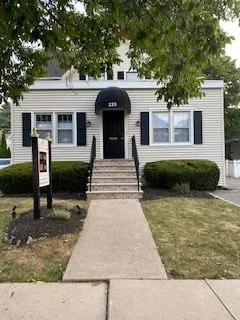 Upper Montclair Dental Associates - Newest Second Location
281 Bellevue Avenue
Upper Montclair, NJ 07043
Phone: 973-746-6056

---
Appointments
Any visits to the Office are by appointment only. New patients are scheduled for an Initial Examination and any appropriate x-ray films. If you have access to recent or past x-ray films from another office please let us know ahead of time and bring them with you. If they are up to date and are of diagnostic quality, they may help the doctors ascertain more information about your oral health than without. The visit will take approximately one hour to one hour –fifteen minutes. If you are in reasonable health, Dr.'s St. Ledger may be able to explain and cover all aspects of comprehensive care: your teeth, gums, bone, muscles, and jaw joints. Once your concerns are addressed, and with patient acceptance, the doctors may invite you back to discuss your treatment further, and even gather more information from you by taking photographs of your teeth, make stone models from impressions of your teeth, and make bite records of how your teeth touch.
Routine cleanings and examination appointments are recommended be made by your hygienist near the conclusion of your recall visit. We keep many early and late hours to accommodate the busy lifestyles of our patients, but our schedule fills up quickly. Making your next recall appointment right away ensures the time for you.
If our patients have a TRUE DENTAL EMERGENCY after hours, you may call Doctor's emergency line and they will get back to you as soon as possible.
There is a twenty four hour cancellation policy. If a patient cancels in less than twenty four hours, you may be subject to a $61 cancellation fee. Your time is valuable, and so is ours. By canceling sooner, you will open up an appointment opportunity for someone else in our community.
Payment Options
Upper Montclair Dental Associates is primarily a fee for service practice. Payment is expected on the date of service. The vast majority of our patients are out of network . For dental benefits claims, after payment, we can assist you with reimbursement with fast, prompt electronic claims technology. Our Benefits Coordinator submits daily claims, and can handle all of your insurance needs so you do not have to. We accept Visa, MasterCard, American Express, Discover, Apple Pay, Samsung Pay and personal checks.
Facilities and Equipment
Digital X-rays
Intra Oral Photography
Digital 3D Scanning and Impressions
Digital 3D Printing
3D Extraoral Imaging - CAT Scans, Face Scans, Airway Analysis
2D Extraoral Imaging - Panoramic Radiographs, Extraoral Bitewings and Extraoral Full Mouth Series of Radiographs
Electronic Insurance Claims Processing
Patient communication through text and email
Digital animated patient education platforms
Flat Screen Televisions in all treatment rooms
Newly Renovated Treatment Rooms and Laboratory
Medical Grade Air Purifiers in each room
Comprehensive Intra Oral and Extra Oral suction devices to limit aerosol production