My Blog
Posts for: July, 2014
By Upper Montclair Dental Associates
July 23, 2014
A wise man once said, "No man is an island." Something similar could be said about our teeth — their health and vitality are intricately linked with a person's general health. Missing teeth in particular can set off a chain reaction that leads to bone loss, an issue for both your health and appearance.
Bone is composed of living cells that go through normal cycles of growth and resorption (the dissolving of mineral composition in the bone). In our early years, there's more growth than resorption as our skeletal structure develops; in adulthood the cycle tends to equalize between the two phases. In our later years, the cycle tends more toward resorption.
The action of biting and chewing actually helps keep the cycle on track as the generated forces stimulate bone growth. When teeth are missing, though, the bone no longer receives this stimulation and will resorb at a higher rate. This is especially a concern for people who've suffered a complete loss of their teeth.
This bone loss may in turn trigger a number of related problems. The jaws may no longer close properly, leading to painful stress in the joints. Nutrition suffers as food choices become limited due to the lack of teeth and bite problems. And, a person's appearance may change as well — the bone loss shortens the look of the face and causes the person to appear much older than they are.
Because of these potential problems, we should do everything we can to preserve and prolong natural teeth. But if preservation isn't an option, then some form of restoration should be pursued. Dental implants in particular may actually prevent and even reverse bone loss. Bone has an affinity with titanium (which is what the implant is made from) and will attach and grow around it over time. This not only anchors the implant, it also increases bone mass where it may have been prematurely lost.
Caring for and preserving your natural teeth is one of the best things you can do for the health of your jawbone. If you lose your teeth, though, there are ways to restore them and protect bone health — and your smile — at the same time.
If you would like more information on the effects of tooth loss, please contact us or schedule an appointment for a consultation. You can also learn more about this topic by reading the Dear Doctor magazine article "New Teeth in One Day."
By Upper Montclair Dental Associates
July 15, 2014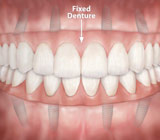 Q: Is there much of a difference between fixed and removable dentures?
A: There's a BIG difference! Removable dentures are the type your grandparents might have had — and possibly their grandparents, too. They work well enough after you get used to them, but there's always the issue of slippage, poor fit, limited function… and potential embarrassment. Modern fixed dentures, however, get their stability from today's state-of-the-art system for tooth replacement: dental implants. They won't loosen or slip, they function and "feel" like your own natural teeth, and they can last for years and years to come.
Q: How are fixed dentures supported?
A: Each arch (set of teeth comprising the top or bottom jaw) of a fixed denture is anchored into the jaw bone by four or more dental implants. These small screw-like devices, made of titanium metal, are placed into the jawbone in a minor surgical procedure. Once set in place, they remain permanently attached by both mechanical forces and osseointegration — the process in which living bone cells actually become fused with the metal implants themselves.
Q: What is the procedure for getting dental implants like?
A: Before having any work done, you will receive a thorough examination and have a set of diagnostic images made. Implant surgery is normally performed in the dental office, using local anesthesia or conscious sedation. If any failing teeth must be extracted (removed), that will be done first. Next, small openings are made in the gums and the jawbone, and the implants are placed in precise locations. Sometimes, a set of temporary teeth can be attached to the implants immediately; other times, the implants will be allowed to heal for a period of time.
Q: Besides added stability, are there other advantages to fixed dentures?
A: Yes! As they become integrated in the jaw, dental implants actually help preserve the quantity and quality of bone in the jaw; removable dentures, on the other hand, decrease bone quantity and quality. This is important because the jawbone plays a vital role in supporting facial features like lips and cheeks. When the facial features lose support, it can make a person look prematurely aged. Also, people who wear removable dentures often have trouble eating "challenging" foods like raw fruits and vegetables (which are highly nutritious), and opt for softer, more processed (and less nutritious) foods. With fixed dentures, however, you can eat the foods you like.
Q: Aren't fixed dentures with dental implants more expensive?
A: Initially, the answer is yes — but in the long run, they may not be. Unlike removable dentures, which inevitably need to be re-lined or remade as the jawbone shrinks, fixed dentures can last for the rest of your life. They don't require adhesives or creams, and you will never have to take them out at night and clean them. In fact, you can think of them as a long-term investment in yourself that pays off with a better quality of life!
If you'd like more information on fixed dentures, please contact us or schedule an appointment for a consultation. You can learn more by reading the Dear Doctor magazine article "Dental Implants: Your Best Option for Replacing Missing Teeth."