My Blog
Posts for: August, 2012
By Upper Montclair Dental Associates
August 30, 2012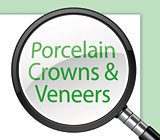 When it comes to restoring both the beauty and functionality of a smile, two of the most commonly used techniques are porcelain crowns and veneers. Why? They consistently deliver beautiful, natural-looking results that are permanent and require very little maintenance. And while they have many things in common, they also have just as many differences.
The Similarities
Here are some facts that apply to both porcelain veneers and crowns:
Both enable changes to a tooth's color and shape.
Dental laboratory technicians use precise molds made by our office to hand-craft porcelain veneers and crowns.
Both are made using high-quality dental porcelain.
Neither respond to tooth whitening products — the color of the veneer or crown remains the same color as the day it was placed.
Neither procedure is reversible once completed.
The Differences
Here are some of their differences:
Crowns are used to replace a larger amount of tooth structure while veneers are thin shells that are placed over the front surface of teeth.
Veneers require much less tooth preparation (reduction by drilling) than crowns.
Crowns allow for greater change of tooth shape, while veneers allow for more minor changes.
Crowns are generally used to restore teeth that have lost tooth structure from decay or trauma.
Veneers are generally used where teeth are structurally healthy and intact, but color and shape change are required.
Veneers are used mostly for teeth that are visible when smiling, while crowns can be used to restore virtually any tooth.
Want To Learn More?
To learn more, read the Dear Doctor article, "Porcelain Crowns & Veneers." Or, you can contact us to discuss your questions or to schedule a consultation.
By Upper Montclair Dental Associates
August 23, 2012
If you are unhappy with the appearance of your smile and would like to change it, we can help you determine what will work best, from a simple whitening to brighten your smile to a complete smile makeover — the possibilities are almost limitless! Consider a "Smile Design" customized just for you. One method of improving your smile is with porcelain veneers. Porcelain laminate veneer tooth restorations are thin layers of dental ceramic — a glass-like material created by dental laboratory technicians, the "artists" who exactly mimic natural teeth making them straighter, whiter, and brighter. They are used to replace worn, dull-looking stained enamel. In addition to making your teeth and smile whiter and brighter, veneers can even be used to change tooth shape and color, close small spaces, and reshape slightly crooked or mis-shapen teeth.
In order to determine if porcelain veneers are a viable solution to help you achieve the smile you have always longed for, consider the following questions:
Do you want to permanently alter the appearance of your smile?
Are you hoping to make improvements to your smile that don't take a very long time to complete?
Are you looking for a way to improve your smile with minimal or even no removal of your natural tooth material?
Would you like to have more evenly aligned teeth?
Do you want to change the color of your teeth?
Do you want whiter teeth and a brighter smile?
If the answer to one or more of these questions is yes and whitening or other treatments have not given you the smile you want, we can help you assess the feasibility of porcelain veneers as one of the many options to enhance and improve your smile. We can fully discuss all the benefits, risks, alternatives, and costs associated with improving your smile.
Call us to make an appointment for a Smile Design consultation and we can get started. If you would like to read more information about porcelain veneers, as well as see a few before and after photos, read the Dear Doctor magazine article "Smile Design Enhanced With Porcelain Veneers."