Frequently Asked Questions About Heart and Gum Diseases
Author: Anonymous posted: Oct. 11, 2012.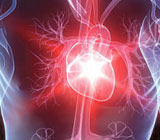 Recent research has revealed that there is a link between cardiovascular ("cardio" – heart; "vascular" – blood vessel) disease (CVD) and periodontal (gum) disease. The link is Inflammation. This is why it is important to learn more about this important relationship so that you can take proactive steps to improving your health and life.
What causes periodontal disease?
Simply put, irregular and ineffective brushing and flossing are the root causes of periodontal disease. Over time and when bacterial biofilms (dental plaque) are left unchecked, they lead to the emergence of a small set of highly pathogenic ("patho" – disease; "genic" – causing) organisms that are consistently associated with periodontitis ("peri" – gum; "odont" – tooth; "itis" – inflammation) or gum disease.
Is periodontal disease common or am I one of the few who have it?
It is a quite common disease, with mild to moderate forms of it impacting 30 to 50% of US adults. More severe cases affect 5 to 15%. One of the reasons these numbers are so high is because periodontal disease is a silent, painless disease that often occurs without any symptoms.
So how does my gum disease link to potential heart disease?
Inflammation is a characteristic of chronic disease. People with moderate to severe periodontitis have increased levels of systemic (general body) inflammation. If left untreated, the same bacterial strains that are commonly found in periodontal pockets surrounding diseased teeth have been found in blood vessel plaques of people with CVD.
This all sounds bad...is there any good news?
Yes! Research has revealed that if periodontal disease is treated, inflammation and infection can be reduced. This also reduces the risk for heart attacks and strokes, both of which are common results of CVD. All it may take is a thorough exam for gum disease and thorough dental cleaning. During your exam, we can also make sure you are brushing and flossing properly so that you are effectively removing bacterial biofilm. But if you have severe periodontal disease, you may need deeper cleanings and more advanced treatment to save your teeth and your heart.
To learn more on this subject, continue reading the Dear Doctor magazine article "The Link Between Heart & Gum Diseases." You can also contact us today with any questions or to schedule an appointment.
Tags: gum disease,&nbsp oral health,&nbsp heart disease