My Blog
Posts for tag: wisdom teeth
By Upper Montclair Dental Associates
October 14, 2019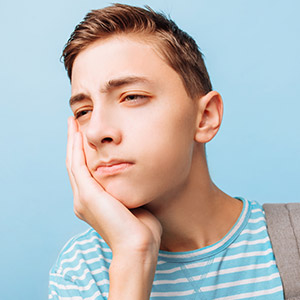 Your child's permanent teeth come in gradually, starting just as they begin losing their primary ("baby") teeth and not ending until late adolescence or early adulthood. That's when the third molars or "wisdom teeth" close out the process.
Because of their late arrival, wisdom teeth have a high potential for dental problems. With a greater chance of crowding or obstruction by other teeth, wisdom teeth often get stuck fully or partially below the gums and bone (impaction) or erupt out of position. In one study, 7 in 10 people between the ages of 20 and 30 will have at least one impacted wisdom tooth at some time in their lives.
It's not surprising then that wisdom teeth are among the most extracted teeth, to the tune of about 10 million per year. Besides those already diseased or causing bite problems, many are removed preemptively in an attempt to avoid future problems.
But wisdom teeth usually require surgical extraction by an oral surgeon, which is much more involved than a simple extraction by a general dentist. Given the potential consequences of surgical extraction, is it really necessary to remove a wisdom tooth not creating immediate problems?
That's not an easy question to answer because it's often difficult to predict a wisdom tooth's developmental track. Early on it can be disease-free and not causing any problems to other teeth. But as some researchers have found, one in three wisdom teeth at this stage will later develop disease or create other issues.
For many dentists, the best approach is to consider extraction on a case by case basis. Those displaying definite signs of problems are prime for removal. But where there are no signs of disease or other issues, the more prudent action may be to keep a watchful eye on their development and decide on extraction at some later date.
More than likely, your dentist will continue to have an ongoing discussion with you about the state of your child's wisdom teeth. While extraction is always an option, wisdom teeth that aren't yet a problem to dental health may be best left alone.
If you would like more information on treating wisdom teeth issues, please contact us or schedule an appointment for a consultation.
By Upper Montclair Dental Associates
January 07, 2019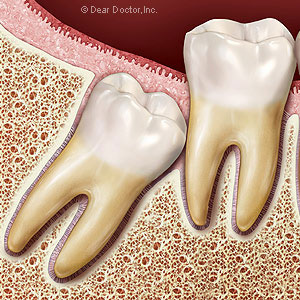 As permanent teeth gradually replace primary ("baby") teeth, most will come in by early adolescence. But the back third molars—the wisdom teeth—are often the last to the party, usually erupting between ages 18 and 24, and the source of possible problems.
This is because the wisdom teeth often erupt on an already crowded jaw populated by other teeth. As a result, they can be impacted, meaning they may erupt partially or not at all and remain largely below the gum surface.
An impacted tooth can impinge on its neighboring teeth and damage their roots or disrupt their protective gum attachment, all of which makes them more susceptible to tooth decay or periodontal (gum) disease. Impacted teeth can also foster the formation of infected cysts that create areas of bone loss or painful infections in the gums of other teeth.
Even when symptoms like these aren't present, many dentists recommend removing the wisdom teeth as a preemptive measure against future problems or disease. This often requires a surgical extraction: in fact, wisdom teeth removal is the most common oral surgical procedure.
But now there's a growing consensus among dentists that removing or not removing wisdom teeth should depend on an individual's unique circumstances. Patients who are having adverse oral health effects from impacted wisdom teeth should consider removing them, especially if they've already encountered dental disease. But the extraction decision isn't as easy for patients with no current signs of either impaction or disease. That doesn't mean their situation won't change in the future.
One way to manage all these potentialities is a strategy called active surveillance. With this approach, patient and dentist keep a close eye on wisdom teeth development and possible signs of impaction or disease. Most dentists recommend carefully examining the wisdom teeth (including diagnostic x-rays and other imaging) every 24 months.
Following this strategy doesn't mean the patient won't eventually have their wisdom teeth removed, but not until there are clearer signs of trouble. But whatever the outcome might be, dealing properly with wisdom teeth is a high priority for preventing future oral health problems.
If you would like more information on wisdom teeth and their potential impact on dental health, please contact us or schedule an appointment for a consultation. You can also learn more about this topic by reading the Dear Doctor magazine article "Wisdom Teeth: Coming of Age May Come with a Dilemma."
By Upper Montclair Dental Associates
June 05, 2012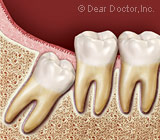 "Impacted wisdom teeth." The term alone sounds ominous. What are wisdom teeth, why do they become impacted, what is the best way to treat them? These are questions people often ask.
What are "wisdom teeth" anyway?
Your third molars, located in the very back of your jaws, are your wisdom teeth. Most people have four of them.
Why is their name associated with wisdom?
They usually begin to come in when a person is 17 to 25 years old, a time when he or she can be said to begin to reach an age of wisdom.
Doesn't everyone get wisdom teeth?
While some people have more than four, others have fewer, and some have no wisdom teeth at all. Some people have wisdom teeth that can be seen in x-rays but do not erupt (grow up through their gums) and become visible.
What does "impacted" mean?
In normal usage, the term "impact" means "influence or effect." In dental vocabulary, it means that a tooth is affecting another tooth or a nearby structure such as gums, nerves or blood vessels. Often an impacted wisdom tooth grows sideways into an adjacent tooth instead of growing upwards to come through the gums normally. This may be caused by a lack of room in your jaw for your third molars.
What kinds of problems can impacted wisdom teeth cause?
A wisdom tooth can impact the gum tissues surrounding nearby molars, leading to infection called "periodontal disease" (from the root words for "around" and "tooth.") They can also cause root resorption in adjacent teeth, a process by which the tooth's roots are slowly dissolved and eaten away.
What are the symptoms of impacted wisdom teeth?
Sometimes impacted teeth are asymptomatic — you feel nothing, even though damage is being done to gums and teeth surrounding the wisdom teeth. That's why it's a good idea to have regular checkups even if you are feeling no pain. Other times, impacted teeth can lead to acute inflammation and infection in surrounding gum tissues that is very painful.
Should I proactively have my wisdom teeth removed if they are not giving me any trouble?
Not necessarily but your wisdom teeth need to be evaluated. Generally speaking, however, it's better to remove wisdom teeth early, before they begin to cause dental problems. By the time a wisdom tooth starts to hurt, its neighboring teeth may already be in big trouble. In addition, younger people's wisdom teeth have undeveloped roots that make them easier to remove with fewer complications.
Contact our office for a full assessment and consultation about your wisdom teeth. You can also learn more by reading the Dear Doctor magazine article "Wisdom Teeth: To Be Or Not To Be?"