My Blog
Posts for tag: tooth pain
By Upper Montclair Dental Associates
November 08, 2018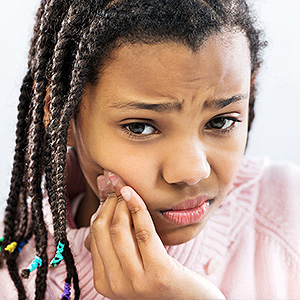 Nothing grabs your attention like a sharp tooth pain, seemingly hitting you out of nowhere while you're eating or drinking. But there is a reason for your sudden agony and the sooner you find it out, the better the outcome for your oral health.
To understand tooth sensitivity, we need to first look at the three layers of tooth anatomy. In the center is the pulp filled with blood vessels and nerve bundles: it's completely covered by the next layer dentin, a soft tissue filled with microscopic tubules that transmit sensations like pressure or temperature to the pulp nerves.
The third layer is enamel, which completely covers the crown, the visible part of a tooth. Enamel protects the two innermost tooth layers from disease and also helps muffle sensations so the tooth's nerves aren't overwhelmed. The enamel stops at about the gum line; below it the gums provide similar protection and sensation shielding to the dentin of the tooth roots.
Problems occur, though, when the dentin below the gums becomes exposed, most commonly because of periodontal (gum) disease. This bacterial infection caused by dental plaque triggers inflammation, which over time can weaken gum tissues and cause them to detach and shrink back (or recede) from the teeth. This can leave the root area vulnerable to disease and the full brunt of environmental sensations that then travel to the nerves in the pulp.
Tooth decay can also create conditions that cause sensitivity. Decay begins when certain oral bacteria multiply and produce higher than normal levels of acid. The acid in turn dissolves the enamel's mineral content to create holes (cavities) that expose the dentin. Not treated, the infection can eventually invade the pulp, putting the tooth in danger of being lost unless a root canal treatment is performed to remove the infection and seal the tooth from further infection.
So, if you begin experiencing a jolt of pain while eating or drinking hot or cold foods or beverages, see your dentist as soon as possible to diagnose and treat the underlying cause. And protect your teeth from dental disease by practicing daily brushing and flossing, as well as seeing your dentist for regular dental cleanings and checkups. Don't ignore those sharp pains—your teeth may be trying to tell you something.
If you would like more information on tooth sensitivity, please contact us or schedule an appointment for a consultation. You can also learn more about this topic by reading the Dear Doctor magazine article "Treatment of Tooth Sensitivity."
By Upper Montclair Dental Associates
January 04, 2018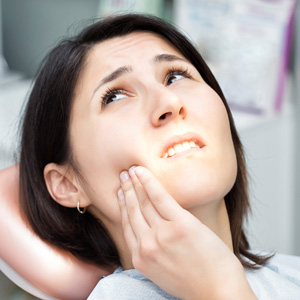 Even though an implant is now as close to life-like as modern dentistry can produce, it won't surpass the function of your own natural tooth. That's not to say implants are an inferior choice—in fact, it's often the best one if a tooth is beyond reasonable repair. But first, let's consider saving your existing tooth.
We first need to know why your tooth is diseased—more than likely either from tooth decay or periodontal (gum) disease. Although different, these infections both begin with bacteria and can eventually lead to tooth loss.
While your mouth is teeming with millions of harmless bacteria, a few strains that live in dental plaque (a thin biofilm on your teeth) can cause disease. As they proliferate—feeding mostly on leftover sugar—they produce acid, which can erode the protective enamel on teeth. This can create cavities, which must be cleared of decayed material and filled.
Sometimes, though, the decay spreads deep within the pulp and through the root canals putting the tooth in danger. We may be able to save it, though, with a root canal treatment. In this common procedure we access the pulp chamber and clean out all the diseased or dead tissue. We then fill the empty chamber and root canals with a gutta percha filling and then seal the tooth. We later cap the tooth with a crown to further protect it.
Dental plaque can also give rise to a gum infection that triggers chronic inflammation. The inflammation can cause the gums to weaken and detach from the teeth to form large, infection-filled voids called periodontal pockets. This could lead to bone deterioration, further loosening the tooth's hold.
But we can effectively treat gum disease by removing the plaque, which is fueling the infection. We normally do this with special hand instruments, but may also need to use surgical measures for more advanced cases. After plaque removal the inflammation subsides, giving the tissues a chance to heal and strengthen. We may also need to provide further assistance to these tissues to regenerate through gum or bone grafting.
These efforts can be quite involved, but if successful they could give your tooth another lease on life. And that could be a much better outcome for your dental health.
If you would like more information on the best treatment choices for your dental health, please contact us or schedule an appointment for a consultation. You can also learn more about this topic by reading the Dear Doctor magazine article "Save a Tooth or Get an Implant?"
By Upper Montclair Dental Associates
January 15, 2015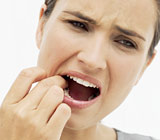 Don't ignore tooth pain hoping it goes away. No matter how mild or fleeting it may be, it's a sign that something's wrong. Healthy teeth shouldn't cause discomfort because the parts containing the nerves — the interior pulp and the dentin around it — are shielded by dental enamel and gums.
Here are some common reasons that teeth ache:
Gum Recession. Over time, gums can recede. Improper or excessive brushing can affect them, especially if you are genetically predisposed by having thin gums. When gums retreat, dentin can, or eventually will, be exposed. Besides its susceptibility to sensation, dentin is also more vulnerable to erosion and decay than enamel.
Tooth Erosion/Decay. When acid-producing oral bacteria get the upper hand, they can eat through the tooth's protective enamel to the dentin. You may start feeling sensitivity as the decay gets deeper and closer to the pulp (nerves). Only removal of the decay and filling the cavity can stop the process.
Old/Loose/Lost Filling. Fillings seal off areas of past decay. If they don't fit right or are dislodged altogether, air or food particles can slip inside and irritate exposed nerve endings. A crevice to hide in makes it prime real estate again for bacteria, too.
Cracked Tooth. Teeth grinding and jaw clenching can have a similar impact on teeth that a miner's pick has on rock. At first thin lines in your enamel can develop, then cracks develop that may expose the dentin, and finally the tooth might fracture, exposing the pulp. The earlier this process is caught, the better.
Pulp Tissue Infection/Inflammation. This can be caused by deep decay or trauma and suggests your tooth may be in its death throes. Sometimes the pulp infection travels into the surrounding periodontal (peri – around; odont – tooth) tissues and causes an abscess to develop. This absolutely requires immediate attention.
Residual Sensitivity from Dental Work. Removal of decay before placing a filling can cause tooth sensitivity. It can take 1-4 weeks or so to improve.
Sinus Pain. Congestion can cause "referred" pain in the upper teeth. When the congestion subsides, the pain should, too.
As you can see, it's risky to discount tooth pain and "wait 'til it goes away." Our office can help you determine the origin of your pain and the best course of action to resolve it. When in doubt, it's always better to err on the side of caution!
If you would like more information about tooth pain and ways to prevent or treat it, please contact us or schedule an appointment for a consultation. You can also learn more about this topic by reading the Dear Doctor magazine articles "Tooth Pain? Don't Wait!" and "Sensitive Teeth."