My Blog
Posts for tag: thumb sucking
By Upper Montclair Dental Associates
October 22, 2017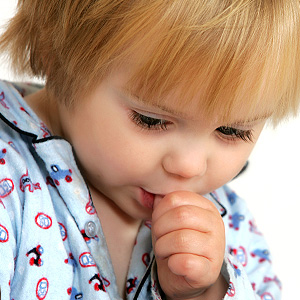 Although distressing to many parents, infants and toddlers sucking their thumb is a common if not universal habit. Most children phase out of it by around age 4, usually with no ill effects. But thumb-sucking continuing into late childhood could prove problematic for a child's bite.
Thumb sucking is related to how young children swallow. All babies are born with what is called an infantile swallowing pattern, in which they thrust their tongues forward while swallowing to ensure their lips seal around a breast or bottle nipple when they nurse. Thumb-sucking mimics this action, which most experts believe serves as a source of comfort when they're not nursing.
Around 3 or 4, their swallowing transitions to a permanent adult swallowing pattern: the tip of the tongue now positions itself against the back of the top front teeth (you can notice it yourself when you swallow). This is also when thumb sucking normally fades.
If a child, however, has problems transitioning to an adult pattern, they may continue to thrust their tongue forward and/or prolong their thumb-sucking habit. Either can put undue pressure on the front teeth causing them to move and develop too far forward. This can create what's known as an open bite: a slight gap still remains between the upper and lower teeth when the jaws are shut rather than the normal overlapping of the upper teeth over the lower.
While we can orthodontically treat an open bite, we can minimize the extent of any treatments if we detect the problem early and intervene with therapies to correct an abnormal swallowing pattern or prolonged thumb sucking. For the former we can assist a child in performing certain exercises that help retrain oral and facial muscles to encourage a proper swallowing pattern. This may also help diminish thumb sucking, but we may in addition need to use positive reinforcement techniques to further discourage the habit.
To stay ahead of possible problems with thumb sucking or the swallowing pattern you should begin regularly taking them to the dentist around their first birthday. It's also a good idea to have an orthodontic evaluation around age 6 for any emerging bite problems. Taking these positive steps could help you avoid undue concern over this common habit.
If you would like more information on managing your child's thumb-sucking habit, please contact us or schedule an appointment for a consultation. You can also learn more about this topic by reading the Dear Doctor magazine article "How Thumb Sucking Affects the Bite."
By Upper Montclair Dental Associates
September 25, 2016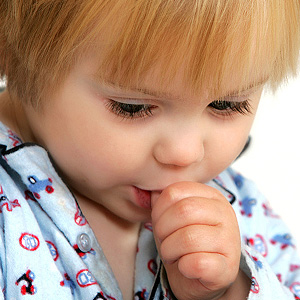 There's something universal about thumb sucking: nearly all babies do it, and nearly all parents worry about it. While most such worries are unfounded, you should be concerned if your child sucks their thumb past age of 4 — late thumb sucking could skew bite development.
Young children suck their thumb because of the way they swallow. Babies move their tongues forward into the space between the two jaws, allowing them to form a seal around a nipple as they breast or bottle feed. Around age 4, this "infantile swallowing pattern" changes to an adult pattern where the tip of the tongue contacts the front roof of the mouth just behind the front teeth. At the same time their future bite is beginning to take shape.
In a normal bite the front teeth slightly overlap the bottom and leave no gap between the jaws when closed. Â But if thumb sucking continues well into school age, the constant pushing of the tongue through the opening in the jaws could alter the front teeth's position as they erupt. As a result they may not fully erupt or erupt too far forward. This could create an open bite, with a gap between the upper and lower teeth when the jaws are closed.
Of course, the best way to avoid this outcome is to encourage your child to stop thumb sucking before they turn four. If, however, they're already developing a poor bite (malocclusion), all is not lost — it can be treated.
It's important, though, not to wait: if you suspect a problem you should see an orthodontist for a full evaluation and accurate diagnosis. There are even some measures that could discourage thumb sucking and lessen the need for braces later. These include a tongue crib, a metal appliance placed behind the upper and lower incisors, or exercises to train the tongue and facial muscles to adopt an adult swallowing pattern. Often, a reward system for not sucking their thumbs helps achieve success as well.
Thumb-sucking shouldn't be a concern if you help your child stop before age 4 and keep an eye on their bite development. Doing those things will help ensure they'll have both healthy and straight teeth.
If you would like more information on thumb sucking, please contact us or schedule an appointment for a consultation. You can also learn more about this topic by reading the Dear Doctor magazine article "How Thumb Sucking Affects the Bite."
By Upper Montclair Dental Associates
March 02, 2015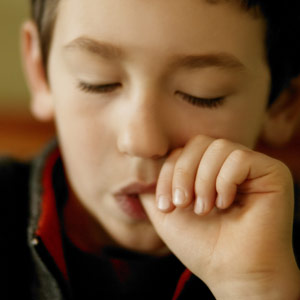 As a parent you're concerned with a number of issues involving your child's health, not the least of which involves their teeth. One of the most common is thumb-sucking.
While later thumb-sucking is a cause for concern, it's quite normal and not viewed as harmful in infant's and very young children. This universal habit is rooted in an infant swallowing pattern: all babies tend to push the tongue forward against the back of the teeth when they swallow, which allows them to form a seal while breast or bottle feeding. Infants and young children take comfort or experience a sense of security from sucking their thumb, which simulates infant feeding.
Soon after their primary teeth begin to erupt, the swallowing pattern changes and they begin to rest the tongue on the roof of the mouth just behind the front teeth when swallowing. For most children thumb sucking begins to fade as their swallowing pattern changes.
Some children, though, continue the habit longer even as their permanent teeth are beginning to come in. As they suck their thumb the tongue constantly rests between the front teeth, which over time may interfere with how they develop. This can cause an "open bite" in which the upper and lower teeth don't meet properly, a problem that usually requires orthodontic treatment to correct it.
For this reason, dentists typically recommend encouraging children to stop thumb-sucking by age 3 (18-24 months to stop using a pacifier). The best approach is positive reinforcement — giving appropriate rewards over time for appropriate behavior: for example, praising them as a "big" boy or girl when they have gone a certain length of time without sucking their thumb or a pacifier. You should also use training or "Sippy" cups to help them transition from a bottle to a regular cup, which will further diminish the infant swallowing pattern and need for thumb-sucking.
Habits like thumb-sucking in young children should be kept in perspective: the habit really isn't a problem unless it goes on too long. Gentle persuasion, along with other techniques we can help you with, is the best way to help your child eventually stop.
If you would like more information on thumb sucking, please contact us or schedule an appointment for a consultation. You can also learn more about this topic by reading the Dear Doctor magazine articles "Thumb Sucking in Children" and "How Thumb Sucking Affects the Bite."