My Blog
Posts for tag: snoring
By Upper Montclair Dental Associates
April 15, 2016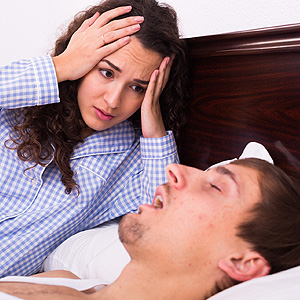 If your sleeping partner snores, it could be more than an annoyance: it could be a sign of sleep apnea. This occurs when air flow into the lungs becomes obstructed in the throat for a few seconds during sleep. The obstruction can take many forms, but a common one arises from the tongue relaxing against the back of the throat, producing snoring sounds as air attempts to pass through this restricted area.
Sleep apnea can cause severe problems: lower daily energy levels and mood from poor sleep; lower oxygen saturation that could affect brain function; and increased risk for cardiovascular disease. So, if you're awakened by your partner's snoring (or they're complaining about yours!), it's important to have it checked and treated.
This begins with a visit to us for a complete oral examination. Like many dentists, we're well trained in the anatomy and structures of the mouth, as well as the causes and treatment of sleep apnea. We'll examine your mouth, take into account any possible symptoms you're experiencing and, if your suspicions are correct, refer you to a sleep physician to diagnose if you have sleep apnea.
Treatment will depend on its cause and severity. An oral appliance worn during sleep is the recommended first treatment for mild to moderate sleep apnea that involves the tongue as an obstruction. We develop a custom appliance that helps move your tongue away from the back of the throat, reducing both apnea and snoring sounds. For more advanced sleep apnea you could benefit from a Continuous Positive Airway Pressure (CPAP) machine. This device generates continuous air pressure through a mask worn while sleeping that helps keep the airway open.
Of course, there are other causes for obstruction, some of which may require surgical intervention to relieve the problem. Abnormally large tonsils, adenoids or excessive soft tissue can all restrict air flow. Surgically removing or altering these structures could help reduce airway restriction.
Whatever type or degree of sleep apnea you or your partner may have, there are solutions. The right treatment will not only improve overall health, it will help both of you get a better night's sleep.
If you would like more information on sleep apnea and how to treat it, please contact us or schedule an appointment for a consultation. You can also learn more about this topic by reading the Dear Doctor magazine article "If You Snore, You Must Read More!"
By Upper Montclair Dental Associates
February 15, 2013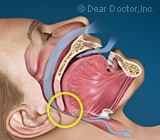 Snoring and other sleeping disorders impact between 50 and 70 million Americans each year. However, did you know that our office can help when it comes to diagnosing and treating sleeping disorders? For this reason, we have put together this list to highlight how we can have a positive impact on your snoring.
Many people are surprised to learn that physician training is lacking and very slowly evolving in the area of sleep related breathing disorders. Therefore, there is limited public and medical awareness. The American Academy of Sleep Medicine (AASM) has acknowledged that properly trained dentists are the first line of therapy for treating mild to moderate sleep apnea effectively.
Because we see our patients on a more regular basis than many primary-care physicians, we dentists are in a unique position to identify and/or detect a SRBD. However, for us to accomplish this, you must share the facts about your sleeping habits and issues related to breathing. In other words, do not be embarrassed to let us know that your spouse, sleeping partner or family complain to you about your snoring!
When it comes to treating complications associated with Oral Appliance Therapy (OAT) used in managing Sleep Related Breathing Disorders (SRBD), dentists are the primary professionals who are specifically trained to create, fit, adjust, monitor and treat any complications associated with a mouthpiece (oral appliance).
Did you know that dentists help identify the approximately 90% of misdiagnosed cases of patients suffering from a SRBD? Well, it is true. We play a critical role in diagnosing and treating these patients.
Another reason why it is much easier for us to diagnose and treat these problems is because the core of our training is centered upon the oral cavity, mouth and parts of the upper airway — the very areas where your snoring and SRBDs occur.
If you suffer from snoring or any other Sleep Related Breathing Disorder, it is imperative that you seek and obtain treatment. Ignoring these problems can lead to issues such as: an irregular heartbeat, heart attacks, high blood pressure, and other forms of heart disease as well as strokes and impotence. Contact us today to discuss your questions about snoring or to schedule an appointment. You can also learn more about snoring and sleep disorders when you continue reading the Dear Doctor magazine article "Sleep Disorders & Dentistry."
By Upper Montclair Dental Associates
October 22, 2012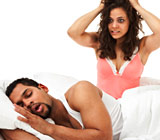 Scientists don't know much about sleep even though it has been extensively studied. We do know that several hours of deep, restful sleep per night are essential for a healthy life.
Many people remain tired and unrefreshed, even after a full night's sleep. About a third of them are affected by sleep related breathing disorders (SRBD). Dentists can play a significant role in helping patients overcome these disorders, which range from frequent snoring to severe Obstructive Sleep Apnea (OSA). If you think you may have such a disorder, read on.
Under normal conditions, your upper airway is open, allowing air to flow from your nose, through your throat, and into your lungs. If you suffer from SRBD, you experience frequent reductions in the flow of air to your lungs during sleep. You may not be aware of it, but sometimes your breathing may even stop for brief periods. These reductions happen when your tongue and other soft tissues in the back of your throat collapse backwards and block your upper airway or windpipe. You may briefly awaken as many as 50 times per night because of these breathing lapses. These brief awakenings, called micro-arousals, keep you from reaching the deep stages of sleep your body needs.
The resulting reduced oxygen flow to your heart and to your brain can cause serious damage. You will also be tired during the day and experience a lack of energy, even if you sleep for seven or eight hours per night. This constant drowsiness puts you at greater risk for accidents.
Because dentists generally see their patients at six-month or other regular intervals, we are in a good position to screen and refer patients with suspected SRBD to physicians for diagnosis and treatment. Dentists can also treat SRBD in a number of ways.
One of these is Oral Appliance Therapy (OAT), in which a device that looks something like an orthodontic retainer holds your lower jaw in a forward position relative to your upper jaw, preventing your tongue and soft tissue from collapsing into your airway.
Another consists of breathing equipment called Continuous Positive Airway Pressure (CPAP). The CPAP is a mask connected to a machine that pushes air into your lungs.
Other treatments include oral surgery or orthodontia. The goal of these techniques is to increase the volume of air passing through your upper airway by pushing your tongue forward.
Medical insurance usually covers the cost of much of these treatments.
Contact us today to schedule an appointment to discuss your questions about sleep disorders and their treatments. You can also learn more by reading the Dear Doctor magazine article "Sleep Disorders and Dentistry."