My Blog
Posts for tag: snoring and sleep apnea
By Upper Montclair Dental Associates
December 14, 2012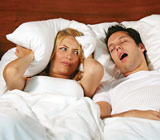 Do you constantly feel like you are running on empty? Do you snore, feel like napping every day, or even drink multiple cups of coffee just for the caffeine boost? You may have a sleep related breathing disorder (SRBD) or Sleep Apnea ("a" – without; "pnea" – breath) in which your airways become obstructed causing chronic loud snoring. The good news is that we can help both diagnose and treat this disorder, which means you will be able to finally get the rest that you (and your sleeping partner) so desperately need.
The reason that sleep apnea is so disruptive to daily living is that it causes awakening for a few seconds up to 50 times per night, significantly decreasing the amount of deep sleep that is necessary for full rejuvenation. Airway blockage during sleep commonly results from obesity, an enlarged tongue or tonsils, and other factors that can cause your airway to close off when you lie down, all increasing the likelihood that you will suffer from sleep apnea. These conditions are dangerous and impair the brain and heart from receiving adequate oxygen, increasing your risk for both stroke and heart attack.
The study of sleep and its disorders is relatively new. One successful way to treat sleep apnea is with a "CPAP" machine which uses a Continuous Positive Airway Pressure mask overnight to keep air passages open while sleeping. Another more comfortable, less noisy, and unobtrusive method is to use Oral Appliance Therapy, which features an appliance like a retainer that can be custom fitted to your mouth made by a dentist trained in sleep medicine.
And yes, dentists are increasingly being recruited to help study and treat sleep disorders. There are actually several ways in which we can help. Because we see our patients on a regular basis, we are uniquely qualified to diagnose early signs of SRBDs. For example, if you start to snore almost immediately after falling asleep in the dental chair, we will be able to discuss this important warning sign with you. We can also examine the back of your mouth to see if you possess any of the traits that point to SRBDs, including large tonsils and/or an elongated uvula — the tissue in the back of your throat that looks like a little punching bag.
So, if you want to stop snoring and start sleeping well or you think you may have a SRBD, call our office to schedule a basic oral exam and consultation. If you would like to learn more about the link between dentistry and the treatment of sleep disorders, read the Dear Doctor magazine article "Sleep Disorders & Dentistry."
By Upper Montclair Dental Associates
September 18, 2012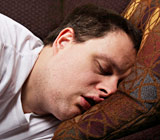 Nearly everyone has snored at some point in life. However, if your sleeping partner routinely tells you that you suffer from this problem, you really should take action to confirm or deny your suspicions. You may be like one of the 50 to 70 million people in the US alone that suffer from Obstructive Sleep Apnea (OSA), a medical condition in which the upper airway (the back of your throat) collapses during sleep thus limiting your intake of oxygen. And this condition is serious. If left untreated, OSA can lead to a stroke, impotence, an irregular heartbeat, heart attacks, high blood pressure, and other forms of heart disease.
The first and most important step you should take if you snore is to obtain a thorough examination by both your primary-care physician and our office. We have completed specialized training in sleep medicine so that we can not only diagnose but also thoroughly treat your sleep disorders.
If you are diagnosed with this problem, relax. We have many ways we can treat your condition. One of the most common methods is to provide you with oral appliance therapy. This first line of treatment involves our making a customized oral appliance (mouthpiece) that will hold your lower jaw forward. By doing this, we can move your tongue away from the back of your throat so that your airway is less likely to get blocked while you sleep. (It is this blockage that causes the infamous snoring sound.)
Another option we may consider using to treat your sleep apnea if it is moderate to advanced is a Continuous Positive Airway Pressure (CPAP) machine. These machines require you to sleep with a mask over your nose and/or mouth and produce continuous pressure in your windpipe so that your tongue is forced forward away from your airway. Not only can these machines potentially eliminate your snoring, but they can also give you the restful night's sleep that you have been missing.
The last and most permanent solution for treating certain non-responsive cases of sleep apnea is surgery. This option is typically reserved for the most advanced cases to eliminate or reduce an obstruction to the airway.
Contact us today to discuss your questions about sleep apnea or to schedule an appointment. You can also learn more about sleep apnea when you continue reading the Dear Doctor magazine article "Sleep Disorders & Dentistry."