My Blog
Posts for tag: removable partial denture
By Upper Montclair Dental Associates
December 08, 2019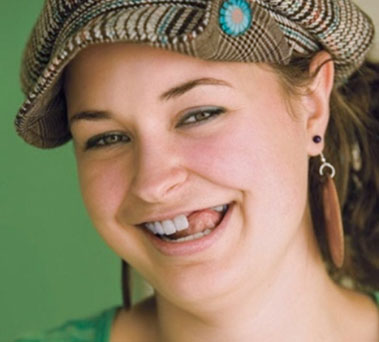 While not as prevalent as adults, teenagers can have missing teeth, usually from injury or from never having been formed. Fortunately, life-like dental implants can replace missing teeth. But unfortunately for teens, implants aren't usually a good option—yet.
That's because a teenager's jaws are still growing, and will continue until early adulthood. Dental implants don't adjust to this growth like natural teeth and will eventually look out of place. It's best, then, to consider a temporary restoration for a teenager. And, there are two excellent options: one removable and one fixed.
The first is a removable partial denture (RPD). Like a full denture, an RPD has an acrylic base that resembles gum tissue, to which prosthetic (false) teeth are attached to match the positions of the missing teeth. It's usually held in place with metal or nylon clips that slide under part of the natural teeth at the gum line.
RPDs are versatile and durable. But they're not designed to be worn indefinitely, so they can be damaged if subjected to excessive biting forces like biting into something hard. And, peer-pressured teens may also feel self-consciousness about wearing a "denture."
The other option is a bonded bridge. It's similar to a traditional bridge, except how it's supported in the mouth. A traditional bridge gains its support from the crowns on each end attached to natural teeth, which must be permanently altered for them. By contrast, a bonded bridge has strips of dental material extending from both sides of its back that are bonded to the back of the adjacent natural teeth.
With the bonding material behind the bridge, it can't be seen—and the natural teeth won't require permanent alteration. But a bonded bridge is usually more costly than an RPD and less secure than a traditional bridge. And not every teen is a viable candidate for one: issues like how the teeth fit together and if the teen has a tooth grinding habit could be strikes against this fixed option.
Your dentist can help you sort out the best of these options for your teen. If cared for and maintained properly, either restoration can buy you time until your teen is ready for dental implants.
If you would like more information on restoring a teenager's smile, please contact us or schedule an appointment for a consultation. You can also learn more about this topic by reading the Dear Doctor magazine article "Temporary Tooth Replacement for Teens: What Are the Options?"
By Upper Montclair Dental Associates
October 06, 2017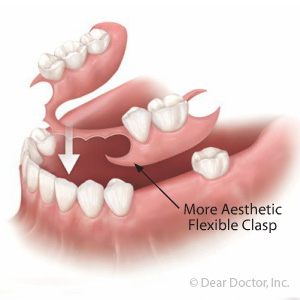 If you've lost some teeth you may eventually want to replace them with dental implants. Implants by far are the restoration of choice due to their life-likeness and durability. But those advantages don't come cheaply — implants can be expensive especially for multiple teeth.
If you're forced to wait financially for implants, you still have other intermediary options like a removable partial denture (RPD). The conventional RPD has a rigid acrylic base colored to resemble gum tissue supported by a metal frame with attached prosthetic (false) teeth at the missing teeth locations. They're held secure in the mouth through metal clasps that fit over the remaining teeth.
But these conventional RPDs can sometimes be uncomfortable to wear and don't always cover the bottom of the gum completely. If this is a concern, you might consider an alternative: flexible RPDs. The base of this RPD is made of a form of flexible nylon rather than acrylic plastic. They're much more lightweight but still fit securely in the mouth with thin plastic extensions rather than metal clasps. The base can also be more easily formed to cover areas where gum tissue may have receded.
While flexible RPDs hold up better to wear and tear than their conventional counterparts, they must still be maintained like any other appliance. They can accumulate plaque (bacterial biofilm) responsible for tooth decay and periodontal (gum) disease, so daily thorough cleaning is a must. And if there fit becomes loose they can be more difficult to reline or repair than other types of dentures.
They also share a common weakness with other dentures — they can't prevent and may even stimulate bone loss. As bone ages, old cells dissolve and new ones form to take their place. As we eat and chew our teeth transmit the forces generated through the teeth to the bone to stimulate it to grow. RPDs and other dentures can't transmit this stimulus, so the bone replaces much slower to the point that the bone volume can diminish.
That's why it's best to consider any RPD as a temporary solution until you can obtain an implant for a more permanent and bone-friendly option. In the meantime, though, an RPD can provide you with a great solution for both form and function for missing teeth.
If you would like more information on RPD choices, please contact us or schedule an appointment for a consultation. You can also learn more about this topic by reading the Dear Doctor magazine article "Flexible Partial Dentures: An Aesthetic Way to Replace Teeth Temporarily."