My Blog
Posts for tag: oral surgery
By Upper Montclair Dental Associates
May 08, 2015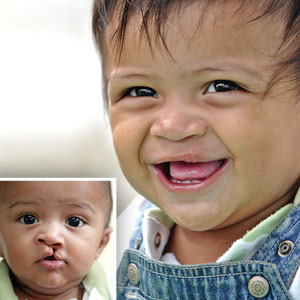 One of the most common and anguish-filled birth defects is a cleft lip or palate (roof of the mouth). Not only do clefts disrupt the normality of a child's facial appearance, they can also lead to problems with chewing, speech and the long-term health of teeth and gums.
A cleft is a tissue gap that occurs during fetal development, usually in the first trimester, in which parts of the baby's face fail to unite. Why this occurs is not fully understood, but vitamin imbalances in the mother, exposure to radiation or other toxic environments, or infections are all believed to play a role.
Facial clefts are classified as either incomplete, in which there is some but not full tissue fusion, or complete, with no fusion at all. A cleft can be unilateral, affecting only one side of the face, or bi-lateral, affecting both sides. During infancy a cleft can adversely affect a child's ability to nurse, and it sometimes disrupts breathing. As the child grows, speech patterns may be severely disrupted and their teeth and bite may not develop properly.
Fortunately, there have been dramatic advances in cleft repair over the past sixty years. It's actually a process that can span a child's entire developmental years and involve the expertise of a number of surgical and dental specialists. For a cleft lip, the initial surgical repair to realign and join the separated tissues usually occurs around three to six months of age; repair of a cleft palate (where the gap extends into the roof of the mouth) between 6 and 12 months.
Subsequent procedures may be needed in later years to refine earlier results and to accommodate the mouth's continuing growth. At some point the treatment focus shifts to cosmetic enhancement (which can include implants, crown or bridgework) and periodontal health, to ensure gum tissues that support teeth and gums aren't compromised by the effects of the cleft or its treatment.
At the end of this long process, something of a miracle may seem to occur: a young person's once disfigured mouth transforms into a beautiful smile. It's a chance for them to gain a normal life — and a new lease on physical, emotional and oral health.
If you would like more information on cleft reconstructive surgery, please contact us or schedule an appointment for a consultation.
By Upper Montclair Dental Associates
April 25, 2014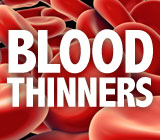 The proliferation of drugs to treat all manner of diseases and conditions has heightened concerns not only about general side effects, but also how a particular drug may affect treatments for other conditions. There are indications, for example, that drugs classified as blood thinners could cause complications for patients undergoing oral surgery.
Blood thinners like Warfarin are typically prescribed to patients with artificial heart valves or who are at significant risk for stroke, heart attack, or the formation of clots that could potentially damage the heart and lungs. The drug reduces the coagulation (clotting) mechanism in blood; aspirin taken regularly should also be considered a blood thinner.
As with any invasive procedure, blood thinners can complicate oral surgery. Blood doesn't clot normally and so bleeding during a procedure is more difficult to stop. This doesn't necessarily mean the surgery can't be performed. For one thing, many oral procedures like tooth removal involve little trauma to tissues and bleeding in the hands of a careful and experienced surgeon. The surgeon can also use hemostatic agents during surgery that will stabilize blood clotting, as well as suturing the incision in such a way as to reduce bleeding from surface capillaries. In the case of a tooth extraction, a bone graft placed within the empty socket not only reduces bone loss from a missing tooth, but can also enhance bleeding control.
In consultation with your medical doctor, it's also possible to temporarily stop or reduce your medication dosage in anticipation of a pending oral surgery. While it may not be safe to stop the drug altogether, a reduced dosage can ease the anti-coagulant effect and reduce any complications from bleeding that might occur during the surgery. You can then resume normal dosage soon after the procedure.
During your pre-op examination, it's important to let your surgeon know about any drugs you are currently taking, including over-the-counter drugs like aspirin. The oral surgeon will then be able to take the necessary steps, including working with your medical doctor, to ensure your surgical procedure is safe and uneventful.
If you would like more information on oral surgery precautions while taking blood thinners and other medication, please contact us or schedule an appointment for a consultation. You can also learn more about this topic by reading the Dear Doctor magazine article "Oral Surgery & Blood Thinners."
By Upper Montclair Dental Associates
January 16, 2014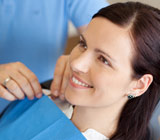 During most of your life, your dental healthcare will be mainly provided by your general dentist. Sometimes, though, certain situations and conditions call for the skills of a dental specialist. One such specialist is an oral surgeon.
An oral surgeon is a dentist who has undertaken further training and residencies in the practice of oral surgical procedures and treatments. They are especially distinguished by surgical procedures that may require advanced forms of anesthesia.
The field of oral surgery touches on a wide array of conditions. They are adept at tooth extractions, especially difficult cases like impacted teeth, and surgical procedures that correct issues involving the underlying bone of the jaw. They perform procedures as part of treatment for diseases of the jaws or facial region (including biopsies, and the removal and treatment of oral cancers), reconstructive surgeries of the mouth and jaw following disease or injury, and orthognathic surgeries that correct malocclusions (bad bites) caused by the size of the jaw and its placement with the skull.
Oral surgeons also provide treatments in the area of pain management like temporo-mandibular disorder (TMD), a group of conditions involving the joint that connects the lower jaw with the skull. Because of their background training in oropharyngeal (pertaining to the back of the mouth and the throat) physiology, many oral surgeons have received further training in the diagnosis and treatment of obstructive sleep apnea (OSA). They also play an important role in cosmetic dentistry, as with the surgical placement of dental implants.
All in all, these professionals are an important part of your dental healthcare team. Along with your general dentist and other oral specialists, they're committed to helping you gain the highest degree of dental health possible, as well as a vibrant, healthy smile.
If you would like more information on the role of oral surgeons, please contact us or schedule an appointment for a consultation. You can also learn more about this topic by reading the Dear Doctor magazine article "Why Consult an Oral Surgeon?"