My Blog
Posts for tag: mouthguards
By Upper Montclair Dental Associates
April 22, 2019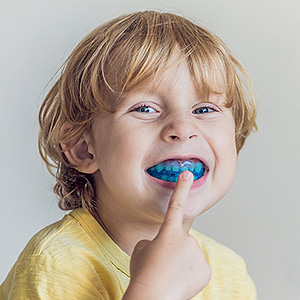 April brings the perfect weather to get outside and play. Fittingly, April is also National Facial Protection Month. Whether you prefer softball or basketball, skateboarding or ultimate frisbee, don't forget your most important piece of equipment: a mouthguard to protect your face and your smile!
In an instant, a blow to the mouth can cause a dental injury that is painful to endure and expensive to treat. In just about any sporting activity, your mouth could come into contact with a piece of equipment, another person or the ground. That's why the American Dental Association and the Academy for Sports Dentistry recommend using a mouthguard when participating in any of over 30 activities, including some that aren't typically considered contact sports, like volleyball and bike riding.
Common sense, observation and scientific research support the use of mouthguards during sporting activities—but are the ones you get from your dentist really any better than the kind you can grab off the shelf at a sporting goods store or drugstore? The answer is yes!
In a 2018 experiment, researchers created a model of the human head to test how direct impact affects the teeth, jaws and skull. They compared the effects of impact when using no mouthguard, when using a custom-made mouthguard available from the dentist, and when using a stock mouthguard. They also tested mouthguards of different thicknesses. The results? The experimenters determined that any mouthguard is better than no mouthguard and that custom mouthguards available from the dental office are more effective than off-the-shelf mouthguards in protecting teeth, jaws and skull from impact. They also found that the thicker the mouthguard, the better the protection.
Although custom mouthguards are more expensive than the kind you can buy at the corner store, the difference in protection, durability, comfort and fit is well worth the investment. We consider your (or your child's) individual needs, take a precise model of your mouth and provide you with a custom-fit mouthguard of the highest quality material.
Don't ruin your game. A mouthguard can go a long way in protecting your teeth and mouth from injury. If you would like more information about a sports mouthguard, please contact us or schedule an appointment for a consultation. To learn more, read the Dear Doctor magazine articles "Mouthguards" and "An Introduction to Sports Injuries & Dentistry."
By Upper Montclair Dental Associates
July 23, 2013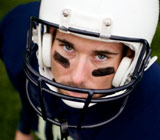 Are you ready to suit up for sports? Mouthguards have been called the most important part of an athlete's uniform. Designed to absorb and distribute the forces of impact received while you participate in athletic activities, your mouthguard is a protective appliance that covers and cushions your teeth and gums to prevent and reduce injury to your teeth, jaws, lips and gums. A properly fitted protective mouthguard is comfortable, resilient, tear resistant, odorless, tasteless, not bulky, fits well, and has sufficient thickness where needed. If you wear it when engaging in contact sports it can prevent injury, pain, suffering and years of expensive dental treatment.
Here's why athletes need mouthguards:
Sports related dental injuries account for more than 600,000 emergency room visits each year. Mouthguards are recommended particularly for contact sports such as boxing, football, hockey and lacrosse.
An athlete is 60 times more likely to suffer harm to the teeth when not wearing a mouthguard. It is estimated that mouthguards prevent more than 200,000 injuries each year.
Properly fitted mouthguards protect the soft tissues of the lips, cheeks, gums and tongue by covering the sharp surfaces of the teeth that can cause lacerations on impact. They also reduce the potential for tooth injury, jaw damage or jaw joint fracture and displacement by cushioning against impact — absorbing and distributing the forces that can cause injury.
Custom-fitted mouthguards are made from exact and precise models of your teeth. They are effective, comfortable, easy to clean, and do not restrict breathing. The best mouthguard is custom designed to fit your mouth and made in our office after your athletic needs have been assessed. For a growing child or adolescent, a custom made mouthguard can provide space for growing teeth and jaws.
A mouthguard properly fitted in our office costs little in comparison to the cost of treatment after injury. If your teeth are knocked out and are not properly preserved or replanted you may face lifetime dental costs of as much as $10,000 to $20,000 per tooth.
The American Dental Association recommends the use of custom mouthguards in 27 sports/exercise activities. Make an appointment to consult with us to find out more about mouthguards. You can also read the Dear Doctor magazine article "Athletic Mouthguards: One of the most important parts of any uniform!"
By Upper Montclair Dental Associates
September 26, 2012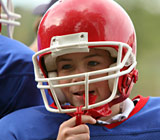 One question we are most often asked by parents of athletes or those who participate in physical sports is, "Do mouthguards really work?" And when we respond, "yes," a common follow-up question is, "Is there any scientific evidence to support this claim?" Based on this scenario, we feel it is important to provide you with some interesting and evidence-based facts on this topic.
The first reported use of mouthguards was in the sport of boxing. And because participants and bystanders in the 1920s quickly witnessed their effectiveness even back then, the trend's popularity grew to the point that boxing became the first professional sport to require them. However, other sports soon started following this lead — especially those high-contact sports. The American Dental Association (ADA) started mandating the use of mouthguards for football in 1962 and the US National Collegiate Athletic Association (NCAA) currently requires mouthguards for football, ice hockey, lacrosse and field hockey. The ADA has since expanded their recommendations to now include 29 different sports and exercise activities. So now that you know more about the professional organizations pushing the use of mouthguards, let's get back to the second question, "What's the evidence?"
There have been numerous studies over the years regarding the properties of mouthguards, and more specifically their shock absorbing capabilities. Other studies have been based upon their protective abilities due to their stiffness, hardness and strength. This research has enabled us to vastly improve upon the effectiveness of mouthguards. For example, years ago latex rubber was a popular material used to create mouthguards. However, today we use products such as ethylene vinyl acetate or polyurethane because they are far superior in durability and flexibility. And impact studies have shown that the chances of fracturing teeth is dramatically reduced when wearing one of these mouthguards...especially when compared to individuals wearing no mouthguard at all. In fact, research has revealed that by not wearing a mouthguard during physical sports or exercise, individuals are 60 times more likely to experience an injury to the mouth and/or teeth.
To learn more about the importance of protective mouthguards, continue reading the Dear Doctor magazine article "Athletic Mouthguards." Or you can contact us today to schedule an appointment to discuss your questions about mouthguards.