My Blog
Posts for tag: missing teeth
By Upper Montclair Dental Associates
July 26, 2018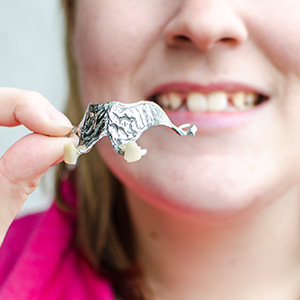 Anyone at any age, including older children and teenagers, can lose or be born missing a permanent tooth. And while those missing teeth can be restored, replacing them in patients who haven't yet reached adulthood can be tricky.
That's because their dental and facial development isn't finished. This is especially problematic for dental implants because as the jaws continue to grow, a "non-growing" implant could eventually appear out of alignment with the surrounding natural teeth. That's why it's often better to install a temporary restoration until the jaws fully mature in early adulthood. Two great choices are a removable partial denture (RPD) or a bonded ("Maryland") bridge.
While "dentures" and "teens" don't seem to go together, an RPD in fact can effectively restore a teen's lost dental function and appearance. Of the various types of RPDs the one usually recommended for teens has a hard acrylic base colored to resemble the gums, to which we attach prosthetic ("false") teeth at their appropriate positions on the jaw.
Besides effectiveness, RPDs are easy to clean and maintain. On the downside, though, an RPD can break and—as a removable appliance—become lost. They can also lose their fit due to changes in jaw structure.
The bonded bridge is similar to a traditional fixed bridge. But there's one big difference: traditional bridges crown the natural teeth on either side of the missing teeth to secure them in place. The supporting teeth must be significantly (and permanently) altered to accommodate the life-like crowns on either end of the bridge.
Instead, a bonded bridge affixes "wings" of dental material extending from the back of the bridge to the back of the natural teeth on either side. While not quite as strong as a regular bridge, the bonded bridge avoids altering any natural teeth.
While a fixed bridge conveniently stays in place, they're more difficult than an RPD to keep clean. And while less prone to breakage, they aren't entirely immune to certain stresses from biting and chewing especially in the presence of some poor bites (how the upper and lower teeth come together).
Choosing between the two restorations will depend on these and other factors. But either choice can serve your teen well until they're able to permanently replace their missing teeth.
If you would like more information on dental restorations for teens, please contact us or schedule an appointment for a consultation.
By Upper Montclair Dental Associates
May 12, 2017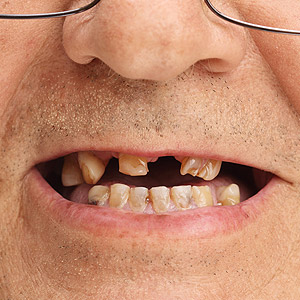 There are plenty of options today for replacing missing teeth, including dental implants. But if the teeth have been missing for some time, complications can arise that limit your restorative options.
The most consequential possibility is bone loss. Bone has a life cycle: old cells dissolve (resorb), and are then replaced by new cells, stimulated to grow by the forces applied to the teeth during chewing. But the bone won't receive this stimulation if a tooth is missing — so growth slows down, which causes the bone volume to diminish with time.
Another complication can occur involving other teeth around the open space. These teeth will naturally move or "drift" out of their normal position into the missing tooth space. As a result we may not have enough room to place a prosthetic (false) tooth.
If either or both of these complications occur, we'll need to address them before attempting a restoration. Bone loss itself could eliminate dental implants as an option because they require a certain amount of supporting bone for correct placement. Bone loss could also make correcting misaligned teeth difficult if not impossible.
It might be possible, though, to regenerate lost bone with a bone graft. The graft is placed, sometimes along with growth stimulating substances, within the diminished bone area. It then serves as a scaffold upon which new bone can form.
If the bone becomes healthy again, we can then attempt to move any drifted teeth back to where they belong. Besides braces, there's another treatment option especially popular with adults: clear aligners. These are a series of removable, clear plastic trays that, like braces, exert gradual pressure on the teeth to move them. Patients wear each individual tray for about two weeks, and then switch to the next tray in the series to continue the process.
Unlike their traditional counterparts, clear aligners can be removed for cleaning or for special occasions. More importantly, they're much less noticeable than traditional braces.
Once any problems with bone health or bite have been addressed and corrected, you'll have a fuller range of options for replacing your missing teeth. With a little extra time and effort, you'll soon be able to regain a smile you'll be proud to display.
If you would like more information on dental restoration, please contact us or schedule an appointment for a consultation.
By Upper Montclair Dental Associates
January 07, 2013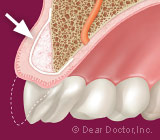 Dentists often recommend bone grafting to ensure the success of dental implants. And it is likewise common for people to squirm a bit at the thought. Bone graft? That sounds serious. And maybe a bit, well, unappealing. These feelings are completely understandable. After all, this may be something you've never had to consider before. But there's no reason to worry. Here's why:
Bone grafting is not new or experimental. It is actually a very routine part of the implant process, as well as other types of oral and periodontal surgery. And it is very successful when performed by an experienced doctor.
Bone grafting materials are processed for safety. The grafts used — whether synthetic or from a natural source, such as cow or human bone — have been specially treated for medical use.
Only a small amount of this bone-grafting material is needed. Once placed in the site of the missing tooth, it serves as a helpful scaffold your body uses to build more of its own bone in that spot.
Your implant will be more ideally positioned and may work better. It needs a good, strong foundation with which to fuse. But when teeth are lost, this supporting bone is often lost, too. This loss is often unpredictable and bone grafting limits the change that occurs. In fact that's one of the main benefits of replacing missing teeth with implants: they help prevent bone loss just as a natural tooth does.
Your implant will look so much better! Think about it: Your original tooth was supported to a certain height by the underlying bone. If that bone is now gone, the replacement tooth is going to be much longer because of the missing bone height. It may not look quite right without that additional support.
So if you want the best-looking and best-functioning implant possible, have no fear of bone grafting. And please contact us to discuss any of your concerns, or schedule an appointment for an implant consultation.
You can read more about this topic in the Dear Doctor magazine article "Can Dentists Rebuild Bone?"