My Blog
Posts for tag: dental injury
By Upper Montclair Dental Associates
May 22, 2018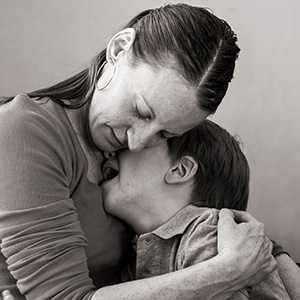 Famed educator Maria Montessori once said, "Play is the work of the child"—and most kids take their "work" very seriously. But their avid enthusiasm might also raise the risk of blunt force injuries, particularly to the mouth.
While you should certainly take steps to protect their mouth (like a custom-made guard for contact sports), you can't completely erase the risk. You should know, therefore, what to do in case of a mouth injury.
The lips, tongue, and other soft oral tissues often get the brunt of any contact injury, ranging from minor bruising and swelling to severe cuts that require medical attention. First, clean the area as thoroughly as possible to remove trapped dirt or debris in the wound. If bleeding occurs, apply continuous gentle pressure with a clean cloth or gauze for 10-15 minutes until it stops, and cold compresses for any swelling. If the wound looks deep or severe, take them to an emergency room.
Blunt force can also impact teeth in a variety of ways. If part of a tooth chips, attempt to find the pieces and see a dentist as soon as possible—they may be able to bond the pieces back to the tooth. If a tooth gets moved out of place, call your dentist immediately or go to an emergency room after hours.
If a permanent tooth gets completely knocked out, find it and rinse off any debris with clean water. Then, place it gently back into its socket, or alternatively between the child's cheek and gum or in a glass of cold milk. You'll need to see a dentist as soon as possible to have the tooth replanted. With this kind of injury, time is of the essence.
A hard impact can also fracture the jawbone, which may be suspected if the face appears distorted or the teeth can't make contact with each other when the jaws are shut. Control any bleeding, apply cold compresses or mild pain relievers to ease any pain or swelling, and go to an emergency room immediately.
A traumatic injury can heighten everyone's emotions, including yours. You can avoid your emotions turning into panic, though, by following these common sense guidelines to help your child get through this unfortunate event.
If you would like more information on handling children's dental problems, please contact us or schedule an appointment for a consultation.
By Upper Montclair Dental Associates
July 16, 2017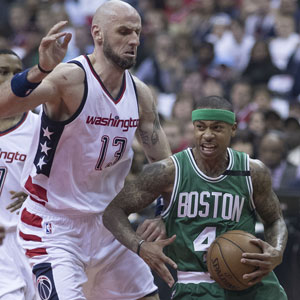 All eyes were on Boston Celtics point guard Isaiah Thomas in Game 1 of the second-round NBA Playoff series against the Washington Wizards — and not just because he scored a game-high of 33 points! Even more dramatic was the moment his jaw collided with an opponent's elbow, sending one of his front teeth flying out of his mouth and onto the floor.
Press reports said the Celtics' team physician attempted to reinsert the tooth, but it didn't remain in place when Thomas resumed playing the game. Over the next several days, he reportedly underwent a total of ten hours of oral surgery, and was fitted with a four-piece temporary bridge. A statement from the team noted that Thomas suffered "a complete fractured tooth and two other subluxed/shifted teeth… [He] will receive a permanent bridge at a future date." So what does all that mean?
When we say a tooth is fractured, it means the crown (visible part) of the tooth has broken off from its roots, either above or below the gum line. Depending on the severity of the fracture, it is sometimes possible to save the natural tooth by performing a root canal to prevent bacterial infection, and then placing a crown (cap) on the tooth to restore its appearance and function. In more severe cases, however, the tooth can't be saved and must be extracted.
Unfortunately, that isn't Thomas' only problem. He also has two subluxed teeth — that is, teeth that have shifted from their original position, but haven't been knocked out of their sockets. Subluxed teeth often result from a severe blow to the mouth, and may be treated by stabilization or splinting. Team officials haven't said exactly what was done during Thomas' dental treatment, but it could very well have involved extracting the roots of any teeth that couldn't be saved, and possibly placing dental implants in his jaw for future tooth restoration.
A dental implant is a small screw-shaped titanium post that is inserted directly into the bone of the upper or lower jaw in a minor surgical procedure. In time, it becomes fused with the bone itself, offering a sturdy anchorage for replacement teeth. One implant can support one replacement crown; two or more implants can support a number of replacement teeth joined together as a unit. This is called a dental bridge.
Bridges can also be supported by adjacent healthy teeth — but first, the outer surfaces of the crown must be prepared (reduced in size), so that the bridge can be attached over the remaining part of the crown. In many instances, implants are preferred because they do not compromise the structure of healthy teeth nearby.
Dental difficulties didn't end Isaiah Thomas' season — but an earlier hip injury that became aggravated finally did.  As unfortunate as this is, maybe now at least the NBA star will have a chance to let those injured teeth heal, and show up next season with a smile that's as good as new.
If you have questions about treating injured teeth, please contact us or schedule an appointment for a consultation.
By Upper Montclair Dental Associates
February 21, 2014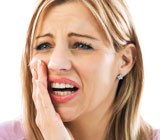 Your lower jaw is an integral part of eating, speaking and other tasks involving the mouth. But what happens if you suffer an injury to one of the two joints that connect it to the skull? The result could be serious pain and the inability to bring the upper and lower teeth together properly.
The exact types of injuries causing the pain and disability can vary, like the displacement of a tooth or a group of teeth. Another is swelling in the joint space that prevents the head of the joint (the condyle) from fully seating in the joint space; you could also experience a joint dislocation as the condyle is forced completely out of the joint space. Either swelling or dislocation can prevent the back teeth on the side of the affected joint from fitting together properly.
Another traumatic injury is a fracture of the bone at or near the joint; one of the most common is known as a "sub-condylar" fracture where the break occurs just below the condyle and results in more severe pain than inflammation or dislocation. A more serious fracture may involve the joint itself.
To treat the symptoms properly, it's important to determine which of these injuries has occurred. This requires a full examination, including x-ray imaging, to determine if the injury involves soft tissue, bone or both. In the case of inflammation, we would prescribe anti-inflammatory and muscle relaxant medication. The latter is especially helpful because trauma often leads to muscle spasms that lock the jaw in place to reduce further damage (nature's splint, if you will). A dislocation may also require gentle manipulation to seat the condyle back into the joint.
Fractures are treated generally by repositioning the broken portions of the bone into their normal position and then immobilizing them while they heal. Immobilization is accomplished by joining the upper and lower teeth together, either by external or internal means. The latter option requires a surgical procedure.
If you've suffered an injury that results in any of these symptoms you should contact our office immediately. Only a complete diagnosis can point the way to the proper treatment that will relieve your discomfort.
If you would like more information on the causes and treatment of jaw pain, please contact us or schedule an appointment for a consultation. You can also learn more about this topic by reading the Dear Doctor magazine article "Jaw Pain — What's the Cause?"