My Blog
Posts for tag: clear orthodontic aligners
By Upper Montclair Dental Associates
June 10, 2014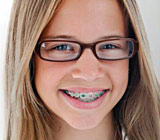 Maybe you had braces as a child, or you are thinking of having your own (it's never too late) or your child's teeth straightened through orthodontia. But how much do you really know about this branch of dentistry? Here are six questions people often ask about orthodontia.
Q. How did the word "orthodontia" originate?
A. From Latin roots meaning "straight" and "teeth"
Q. Teeth are anchored in bone. How is it possible to move them?
A. Living bone is not unchanging. The bone, ligament, and the outer layer of a tooth's root (called cementum) react to the stresses of biting and chewing. Due to this stimulation the bone is constantly being resorbed (broken down) and rebuilt as it is pushed from one side of a tooth and pulled from the other. Under normal conditions, there is a balance resulting in a steady state. Orthodontia takes advantage of this process to slowly change the teeth's position in the desired way.
Q. My dentist talks about the periodontal ligament. What does this mean?
A. The ligament is a fibrous tissue that connects the teeth to their bone and takes part in the dynamic process of resorption and rebuilding of the bone.
Q. What kinds of conditions can orthodontia correct?
A. Treatment can improve the teeth's position and relations to each other (being too crowded or badly spaced) and the way the upper and lower jaws relate. It can enhance the appearance of a person's teeth and face, and can also improve the teeth's function in biting and chewing.
Q. What is the best first step to orthodontic treatment?
A. Talk to your general dentist about your concerns. If you are referred to an orthodontist, the next step is to assess your situation using molds of your teeth that show the way the upper and lower teeth meet (your bite). Special x-rays will be taken to show the locations of your teeth and relation of your upper and lower jaw. Your dental team may also use photographs of your smile and computer imaging to get a clear view of how your teeth are now and how they may be moved.
Q. What are some of the methods of treatment?
A. In the traditional method, small metal brackets are attached to the crowns of the teeth. Thin wires, called arch wires, are strung through attachments on the brackets. These wires are used to apply controlled force to direct the teeth in the desired direction. Another method is to use removable clear plastic aligners. A series of aligners is designed by a computer, to be changed from one to the next as the positions of the teeth slowly change.
Contact us today to schedule an appointment to discuss your questions about braces and orthodontia. You can also learn more by reading the Dear Doctor magazine articles "Moving Teeth with Orthodontics" and "The Magic of Orthodontics."
By Upper Montclair Dental Associates
July 23, 2013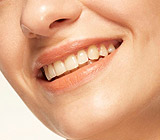 If you've lived for many years with crooked teeth, you may think that your teeth will be this way forever. Believe it or not, one out of every five orthodontic patients is an adult and 75% of adults have some form of malocclusion. You're never too old to improve your smile, and here a few reasons why you should consider orthodontic treatment:
Self-Esteem: An attractive smile contributes to your confidence and self-image, and this is important at any age. Research has shown that, logically, the better you feel about your looks, the better you feel about yourself. You might not realize it, but those crooked teeth can cause you to be self-conscious, thus smiling and talking less. Studies have even demonstrated that orthodontic treatments can enhance your career opportunities.
Longevity: Though you can always expect a certain amount of wear and tear to your teeth from aging, properly aligned teeth will function better over time. If you are prone to gum disease, your problems can worsen with poorly aligned teeth. Not only is it more difficult to clean around crooked teeth, but we often see gum recession around poorly positioned or crowded teeth.
Options: If you choose to explore orthodontic treatment, you will see that much has changed since you were a teenager. Instead of traditional metal braces, we can sometimes use clear or colorless braces that are less noticeable. Some braces can even be attached to the back of your teeth. You may also be a candidate for clear orthodontic aligners, which use a sequence of clear, removable and custom-fitted trays to gradually straighten your teeth.
If you're considering orthodontic treatment, you should schedule an appointment with our office, so that we can conduct a thorough examination, discuss your options and recommend a course of treatment. We'll also make sure that your teeth and gums are healthy, an important requirement to successfully straighten your teeth.
If you would like more information about adult orthodontics, please contact us for a consultation. You can also learn more by reading the Dear Doctor magazine article "Orthodontics for the Older Adult."
By Upper Montclair Dental Associates
May 28, 2012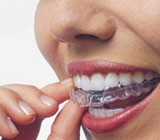 If you are dissatisfied with the way your smile looks, and your dentist is unhappy with the way your teeth fit together — but you don't like the idea of wearing braces — clear aligners may be your best solution. How much do you know about this teeth-straightening alternative? Below are some FAQs on the subject.
What do we mean by clear aligners? Clear aligners are a system for straightening teeth that uses clear plastic removable "trays" that fit over your teeth. As the teeth move to fit the trays, new trays are substituted that are designed to continue to move your teeth into the desired position. This system is an alternative to the traditional system of brackets and wires known as braces.
How can teeth be moved to new positions? The connection that holds a tooth in place in your jaws — the periodontal ligament — is not immobile. It constantly changes its position based on the normal forces of your bite. As the ligament is pushed on one side and pulled on the other, the living cells of your mouth respond by depositing bone and cementum (the protective covering of the tooth's root) on one side and dissolving it on the other. Normally this happens in a balance, maintaining your teeth in their position. We can manage these slight changes by applying constant light forces to move teeth in a predictable way.
How long does it take to move teeth to their optimum position using clear aligners? As with braces, the process is gradual. Total treatment time can range from six months to two years.
Do the trays have to be worn all the time? As you move through the sequence of trays, each is worn for 20 hours per day for two weeks. They may occasionally be removed for important social occasions.
How does an orthodontist design the sequential trays that are used? The trays are designed using a computer, based on an assessment and images of your mouth, teeth and jaws.
What kinds of problems can clear aligners correct? This method works well to correct mild to moderate crowding or spacing. If your back teeth already fit together as they should, the system may be ideal. If you have an extreme overbite or underbite, braces might work better.
Are clear aligners an alternative for everyone? Clear aligners are recommended for adults and recently, teenagers. They are not usually recommended for young children.
Why is it important to have your teeth straightened? Besides the obvious benefit of feeling better about yourself and your appearance, straight and well-aligned teeth work better. You will experience a better-functioning bite and can improve your oral health.
Contact us today to schedule an appointment to discuss your questions about orthodontics and clear aligners. You can also learn more by reading the Dear Doctor magazine articles "Clear Orthodontic Aligners" and "Moving Teeth With Orthodontics."