My Blog
Posts for tag: bridgework
By Upper Montclair Dental Associates
February 26, 2021

What a difference forty years can make: Dental bridges once occupied the top spot for choices to replace missing teeth until the arrival of dental implants in the 1980s. Today, dental implants are the gold standard for dental restoration.
But although bridgework may have lost "first chair" in the orchestra of restorations, it's still a viable option. In fact, it can be the best option in certain situations.
Bridges consist of a series of porcelain crowns fused together like fence pickets. The center crowns, known as the pontics, "bridge" the gap left by a missing tooth or teeth. The crowns on each end, the abutment teeth, crown the natural teeth on either side of the gap to support the bridge.
Bridges are effective and durable, but with a major downside: To accommodate the abutment crowns, we must reduce the size of the natural teeth to which they'll be attached. This alteration can weaken those teeth's structure and require them from then on to have some form of restoration. They're also at higher risk for tooth decay.
Implants, on the other hand, don't require this alteration, and may also be more durable than bridges. Why then consider a bridge?
Price can be a factor: Implants may be more expensive, especially involving multiple teeth. Keep in mind, though, that this only compares the initial cost: Because implants have a 95% or more ten-year success rate, with further evidence they could potentially last for decades, they may actually cost less in the long-run than bridge restorations that have a higher chance of being replaced sooner.
But the prime reason is that some dental situations aren't suitable for dental implants. For instance, implants require a certain amount of bone for proper placement, so people with extensive bone loss may not be able to acquire them. Health conditions like uncontrolled diabetes or a compromised immune system can also complicate implant installation. A bridge in these cases may represent a better alternative.
With the help of your dentist, you'll need to consider your individual situation, dental and financial, in deciding between an implant or a bridge. And, if a dental bridge is your best option, it will be a solid choice for restoring your missing teeth and your smile.
If you would like more information on various dental restoration methods, please contact us or schedule an appointment for a consultation. You can also learn more about this topic by reading the Dear Doctor magazine article "Crowns & Bridgework."
By Upper Montclair Dental Associates
August 15, 2014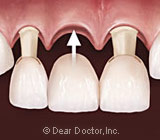 If at all possible, we want to save a tooth — it's the best outcome for your overall dental health. In many cases, we can achieve this by filling the tooth or installing a crown over it.
Unfortunately, preservation isn't always possible if the natural tooth has been irreparably weakened by decay or trauma. Replacing the natural tooth with a life-like artificial one is the next best option: the replacement will help you regain lost function and reinvigorate your smile. Filling the missing tooth's space also prevents neighboring teeth from drifting into it, causing further problems with function and appearance.
Dental implants are widely recognized as the best choice for tooth replacement because of their life-like qualities, durability and positive effect on bone health. Even their biggest drawback, their cost, isn't that great an issue if you factor in their longevity — they may actually result in less dental expense over the long-term.
A dental implant, however, isn't always a viable option. Some patients may not have enough bone mass to support an implant. Those with certain systemic diseases like uncontrolled diabetes or a weakened immune system may not be able to undergo dental implant surgery.
Fortunately, many of these patients can benefit from a fixed bridge, a restoration option that's been used for decades. A bridge is a series of life-like crowns permanently joined like pickets in a fence. The middle crown known as the "pontic" fills the empty space left by the missing tooth. The crowns on either side of the pontic are permanently attached to the natural teeth that border the missing tooth space. Known also as "abutment" teeth, they serve as the support for the bridge.
Bridges do have one downside — the abutment teeth must be prepared by filing them down so the new crowns fit over them properly. This will permanently alter and possibly weaken the teeth. Dental implants, on the other hand, have little to no effect on adjacent teeth.
Still, a bridge remains an effective option for many people. Properly cared for, a bridge can restore function as well as enhance your smile for many years to come.
If you would like more information on bridgework as a restorative option, please contact us or schedule an appointment for a consultation. You can also learn more about this topic by reading the Dear Doctor magazine article "Crowns & Bridgework."
By Upper Montclair Dental Associates
November 19, 2012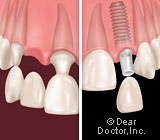 When it comes to replacing missing teeth, we have numerous options. However, two of the most common treatment options include bridgework and dental implants. See how much you really know about dental implants and bridgework by taking our quick and easy true/false self test.
When it comes to costs, dental implants may initially cost more than bridgework but are less expensive than bridgework over a lifetime.
True or False
Both bridgework and dental implants can last a lifetime when properly maintained.
True or False
Prior to placing a three-unit fixed bridge, if the surrounding teeth have crowns, they must be redone so that the bridge fits and wears properly.
True or False
Replacing a single tooth with a three-unit bridge, requires removing the enamel on the adjacent teeth even if these teeth are disease-free.
True or False
In addition to being permanent tooth replacements, another advantage of dental implants is that they don't decay like teeth supporting bridgework.
True or False
It is not uncommon for root canal treatment to be required to save teeth that support bridgework if they have been subjected to severe decay and their nerves become infected.
True or False
Placing a dental implant requires more time when compared to placing a three-unit bridge.
True or False
Both bridgework and dental implants require minor surgery to replace a missing tooth.
True or False
Dental implants are more desirable than bridgework because placing them does not affect the adjacent teeth.
True or False
Studies indicate that bridges are only 67% successful at 15 years whereas dental implants have success rates into the 90s.
True or False
Answers: 1) True. This fact shocks many people. 2) False. This is more commonly true for dental implants. 3) True. 4) True. This is one of the disadvantages of bridgework. 5) True. This is just one of the advantages of a dental implant. 6) True. 7) True. 8) False. Dental implants require surgery to be placed. 9) True. This fact is a significant advantage for dental implants. 10) True. Your results may vary; however, this statistic represents what you might expect.
To learn more, continue reading the Dear Doctor magazine article "Implants vs. Bridgework." Or, you can contact us today to schedule an appointment or to discuss your questions.