My Blog
Posts for tag: bone grafting
By Upper Montclair Dental Associates
February 16, 2019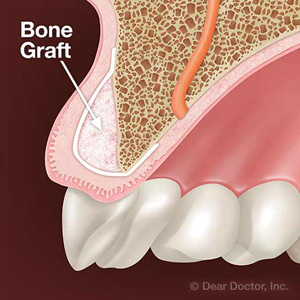 Dental implant technology has advanced at such an astounding rate in recent years that you can now walk into a dentist's office with a problem tooth and out the same day with a new one. Unfortunately, not all dental situations allow for this possibility.
For example, you might be considering an implant many years after losing a tooth. But there's a potential problem: there might not be enough supporting bone. While an implant might still be possible, inadequate bone complicates the matter.
Because implants are essentially tooth root replacements, they require a certain amount of bone for stability and the best attractive outcome. As a general rule, implants need to be surrounded by  at least 1.5-2.0 millimeters of healthy bone to support an implant. But you might not have enough if your tooth has been missing for awhile, regardless if you have or haven't worn dentures or other restorations.
That's because bone has a life cycle in which older cells die and newer ones form to take their place. As we chew or bite, the force generated travels up through the teeth to the bone to stimulate this new growth. Without a tooth the bone doesn't receive this stimulus, which can slow the growth rate. Over time the affected bone can lose its volume and density.
If we find you've experienced loss to the point your bone won't support an implant, that doesn't automatically mean this popular restoration is out of the picture. But it will require us first performing a procedure known as augmentation or bone grafting to help rejuvenate some of the lost bone.
With grafting, we place processed bone grafting material in the jaw through a minor surgical procedure to form a scaffold for new bone to grow upon. After several months this can result in several millimeters of new growth maintaining the width of the underlying bone, which in turn may be able to support an implant.
Bone grafting is quite common, often performed at the same time as tooth extraction if there's going to be a time lag before installing an implant. Even if performed later, though, it can successfully rejuvenate lost bone and make it possible for you to take advantage of durable, life-like implants.
If you would like more information on dental implants, please contact us or schedule an appointment for a consultation. You can also learn more about this topic by reading the Dear Doctor magazine article "Dental Implants after Previous Tooth Loss."
By Upper Montclair Dental Associates
April 26, 2017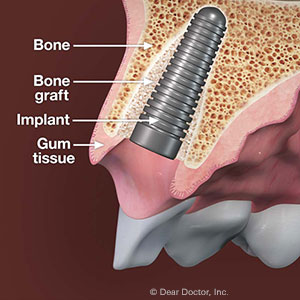 Dental implants are considered the best tooth replacement option available. An implant replaces the root of a tooth and allows for the replacement of the crown via attachments or abutments. They not only look like a real tooth, they function like one too.
Implants, though, for some are a significant investment and may be well beyond a person's financial means if they've experienced a sudden tooth loss. For that reason, many opt for a less expensive tooth replacement option like a removable partial denture.
Later when they can afford it, a person might consider an implant. But this could pose a complication. When a tooth is missing for some time, the underlying bone doesn't rejuvenate normally because it no longer receives stimulation from the tooth. Over time, the amount of bone may diminish. Restorations like dentures can't stop this bone loss and actually aggravates it.
For proper positioning, an implant requires a certain amount of bone volume. So, it's quite possible when the time comes to replace the old restoration with an implant that there may not be enough bone available.
We may be able to overcome this bone loss with bone grafting and regeneration. A specialist such as a periodontist or oral surgeon accesses the area surgically and inserts bone graft material, usually processed material that's completely safe. Properly placed, the bone graft serves as a scaffold that, along with growth stimulators, encourages bone cells to grow.
When the bone grafting has healed enough, we're then able to place the implant. Once imbedded in the bone, one of the implant's unique qualities comes into play. The imbedded post is made of the metal titanium, which is not only bio-compatible with body tissues, it also has an affinity with bone. Bone cells will easily grow and adhere to the implant surface. This further boosts bone growth in the area and strengthens the implant's hold.
These extra procedures to build back lost bone do add to the cost and time for installing an implant. But if you're ready for a more permanent restoration for a missing tooth — not to mention better bone health — the extra time and money will be well worth it.
If you would like more information on dental implants, please contact us or schedule an appointment for a consultation.
By Upper Montclair Dental Associates
January 07, 2013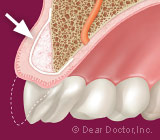 Dentists often recommend bone grafting to ensure the success of dental implants. And it is likewise common for people to squirm a bit at the thought. Bone graft? That sounds serious. And maybe a bit, well, unappealing. These feelings are completely understandable. After all, this may be something you've never had to consider before. But there's no reason to worry. Here's why:
Bone grafting is not new or experimental. It is actually a very routine part of the implant process, as well as other types of oral and periodontal surgery. And it is very successful when performed by an experienced doctor.
Bone grafting materials are processed for safety. The grafts used — whether synthetic or from a natural source, such as cow or human bone — have been specially treated for medical use.
Only a small amount of this bone-grafting material is needed. Once placed in the site of the missing tooth, it serves as a helpful scaffold your body uses to build more of its own bone in that spot.
Your implant will be more ideally positioned and may work better. It needs a good, strong foundation with which to fuse. But when teeth are lost, this supporting bone is often lost, too. This loss is often unpredictable and bone grafting limits the change that occurs. In fact that's one of the main benefits of replacing missing teeth with implants: they help prevent bone loss just as a natural tooth does.
Your implant will look so much better! Think about it: Your original tooth was supported to a certain height by the underlying bone. If that bone is now gone, the replacement tooth is going to be much longer because of the missing bone height. It may not look quite right without that additional support.
So if you want the best-looking and best-functioning implant possible, have no fear of bone grafting. And please contact us to discuss any of your concerns, or schedule an appointment for an implant consultation.
You can read more about this topic in the Dear Doctor magazine article "Can Dentists Rebuild Bone?"