Oral Piercings — Tongue & Lip Bolts: Trendy But Dangerous
Author: Anonymous posted: Oct. 19, 2012.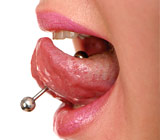 Tongue and other piercings are a current fad or trend, but can often lead to unforeseen problems.
Piercing the tongue and installing a metal ornament called a tongue bolt commonly leads to chipped teeth, sensitivity, and pain. More frequently, it can cause problems with the gums, such as recession, inflammation, infection, bone loss, and even nerve damage.
In one case reported by the American Medical Association, a teenager suffered 20 to 30 daily electrical shocks in many areas of her face after having her tongue pierced and installing a tongue bolt. A neurologist found that the bolt irritated the nerves to her tongue, causing the symptoms. After the bolt was removed, the shocks and symptoms ceased and her tongue healed.
Having the bolts placed may be painful. The tongue is rich in nerves and blood vessels and a lot of bleeding can occur, which can be difficult to stop. Think about how painful it is when you bite your tongue or lip accidentally. And tongue and lip bolts are not generally placed by health professionals or under sterile conditions.
If you are considering getting an oral piercing, make an appointment with us to discuss all the possible ramifications before you make the decision to go ahead. If you already have an oral piercing, be sure to come in for frequent checkups.
Contact us today to schedule an appointment to discuss your questions about oral piercings. You can also learn more by reading the Dear Doctor magazine article on "Body Piercings and Teeth: The dangers of tongue and lip piercing."
Tags: oral piercings